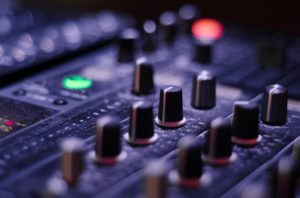 Originally published at https://checkeredhat.com
Mixing live sound is both an art and a science. Each situation has it's own quirks and what works in one situation isn't always going to work in the next. The goal of a good live sound engineer is to have the act sound great from every position in the house while making sure that the artist has a mix on stage that helps them give the best performance possible.
One of the simplest ways to improve your live sound mix is to understand how to EQ the individual signal sources within your mix. I've been mixing live sound since the mid-90's and over the years it's become clear to me that there are common problems which keep cropping up time and time again. Luckily, there are also common solutions to those problems.
I think that the following adjustments will solve the most common live sound problems related to EQ. Give them a try and see what you think. If you have ideas for improvements please let me know in the comments below.
Vocals: add fullness 150hz +3; reduce mud 200-250hz -2; add clarity 3k +2; add presence 5k +1; reduce sibilance 7.5-10k -2; add air 10k +2
Electric Guitar: reduce mud 100hz -2; add warmth 150-250hz +2; add attack 2.5-4k +2; add bite 5k +2
Acoustic Guitar: reduce mud 80hz -3; add warmth 150-200hz +2; reduce boxiness 800-1000hz -2; add attack 3-5khz +2; add brightness 7k +2
Bass Guitar: add fullness 100-200hz +1; reduce mud 200-300hz -3; add punch 500-1000hz +2; add attack 2.5-5k +2
Kick Drum: add depth 80-100hz +1; reduce boxiness 400-600hz -3; add attack 2.5-5k +1
Snare Drum: add warmth 100-150hz +1; add depth 250hz +1; reduce boxiness 800-1000hz -2; add attack 3-5k +1; add crispness 8-10k +1
Hi-Hat: add sheen 10k +3
Rack Toms: add depth 200-250hz +1; reduce boxiness 600-1000hz -2; add attack 3-5k +1; add presence 5-8k +1
Floor Toms: add richness 40-125hz +1; reduce boxiness 400-800hz -2; add punch 2.5-5k +2

No chart can be a substitute for focused listening and experience. I hope this helps you get started. Good luck!
If you prefer this information in an easily printed format, download this image: